There are plenty of options available to immigrate to Canada from India.
India has been a top source country of Canadian immigrants. In fact, Indian nationals accounted for nearly 33% percent of all new permanent residents in 2021. The number of immigrants applying for a Canada PR from India bounced from 39,400 in 2016 to 85,585 in 2019.
Planning on immigrating to Canada from India this year?
Here are the 5 best ways you can make the move.
1. Federal Skilled Worker Program
Express Entry's Federal Skilled Worker Program (FSWP) is for skilled workers with at least one year of skilled work experience. Being highly competitive, the FSWP uses the CRS points calculator to give potential applicants a point-based score. Applicants with the highest scores are then invited to apply for Canadian permanent residency.
Last year, over 50% of invitations were issued under the Express Entry program to Indian nationals – mostly under the FSWP.
2. Provincial Nominee Programs
Each of Canada's 13 provinces and territories manages and operates its own immigrant intake programs called Provincial Nominee Programs, or PNPs. Each PNP is built to fit the respective province's economic and demographic needs. PNPs are quite popular amongst Indians with a low CRS score - looking to immigrate to Canada from India.
Immigration under Canada's PNP makes up a large portion of Canada's total economic immigration. Of the total 232,500 economic immigrants in 2021, 80,800 were reserved for those applying under a PNP.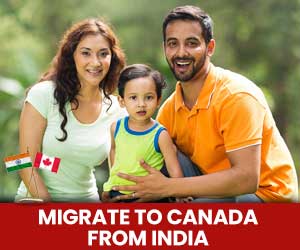 Get a Free Express Entry Assessment
3. Quebec Skilled Worker Program
The province of Quebec runs its own skilled worker immigration program called the Quebec Skilled Worker Program (QSWP). Operated by the province of Quebec, the QSWP is for applicants with relevant academic and employment experience who will be able to support and sustain Quebec's economy and labor market shortages.
Similar to Express Entry's FSWP, Quebec also uses a point-based assessment grid, to invite candidates for permanent residency.
4. Work Permits / Intra-Company Transfers
Certain Indian nationals seeking to immigrate to Canada may be eligible for a work permit in Canada. They may, however, require a valid job offer from a Canadian employer to obtain a work permit. However, one significant exception to this is for intra-company transfers.
If your employer in India is part of a multinational corporation with offices in Canada, you may be eligible to be transferred to an office in Canada – with minimal paperwork.
5. Family Sponsorship
Canada offers some of the best "Family Reunification" programs in the world - and is another popular option to immigrate to Canada from India. If you have a qualifying relative living in Canada, you may be eligible for Family class sponsorship program. Canada offers numerous immigration programs that give Canadians the opportunity to sponsor their family members in Canada.
Some of the family programs include Spousal Sponsorship (spouse and common-law partner), Dependent Visa (dependent children), and Super Visa (parent and grandparents visa).