Canada has emerged as one of the most preferred immigration destinations to settle as a permanent resident – especially by Indians. Canada with its lenient immigration rules and quick processing times has made it easier for immigrants from across the world – to become Canadian permanent residents.
There is an abundance of lucrative job opportunities offered by the Great White North – not to mention the world-class education, free public healthcare, jaw-dropping scenic landscapes, multiculturalism, and much more.
But how do you immigrate to Canada from India?
When it comes to immigrating to Canada from India for permanent residency – the Canadian government offers numerous immigration options. Some of the popular ones include the Express Entry program, Provincial Nominee Program, Quebec Immigration, Business Immigration, and Family Class Sponsorship.
In this write-up, we'll be going through the most sought-after Canada PR pathway from India – the Express Entry program.
What is the Express Entry program?
Launched in 2015, the Express Entry program is an online immigration system that manages skilled workers' applications for Canadian permanent residency. This globally-renowned immigration pathway covers federal economic immigration programs:
Federal Skilled Workers Program (FSWP)

Federal Skilled Trades Program (FSTP)

Canadian Experience Class (CEC)
Having a Canada PR processing time of 9-12 months, the Express Entry is preferred by the majority of immigrants moving to Canada.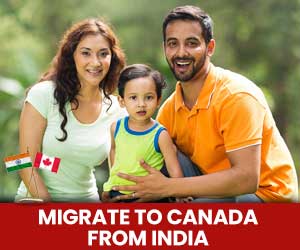 Get a Free Express Entry Assessment
Step to Apply for a Canada PR from India
STEP 1: Get your ECA done
You have to get your education credentials assessed by an authorized Canadian assessing body such as WES, ICAS, and CES. This is done to check whether or not your educational background meets that of Canadian standards.
STEP 2: Take your IELTS exam
Complete your IELTS/CELPIP exam and obtain above the minimum marks required in each module of Reading, Writing, Listening, and Speaking.
STEP 3: Create an Express Entry profile
You will be required to create an Express Entry profile by registering yourself under the federal Express Entry program online. Your profile will then be placed in the Express Entry pool alongside other candidates.
STEP 4: Apply for a Provincial Nomination (optional)
Securing a provincial nomination from one of the 13 provinces in Canada is an effective medium to guarantee a Canada PR. Immigrating through a PNP can help you gain additional 600 points towards your final score in the Canada PR points calculator.
STEP 5: Get an Invitation to Apply (ITA)
If you meet the minimum CRS cut-off score in the subsequent Express Entry draw – you will be issued an Invitation to Apply (ITA) for permanent residency. You will now have 60 days to submit your complete Express Entry application alongside the supporting documents.
STEP 6: Go through police and medical background checks
You will also need to undergo police and medical background checks. These mandatory checks demonstrate that you are in good health – and have no criminal history record.
STEP 7: Application Audit by IRCC
Once you have submitted the complete application – Immigration, Refugees, and Citizenship Canada (IRCC) will now review your profile and authenticate the documents and information provided by you. This step takes around 4-5 months.
STEP 8: Receive Confirmation of Permanent Residency (COPR)
The IRCC will now send you a COPR, which you can then use to apply for a Canada PR from India.
STEP 9: Apply for a Canada PR status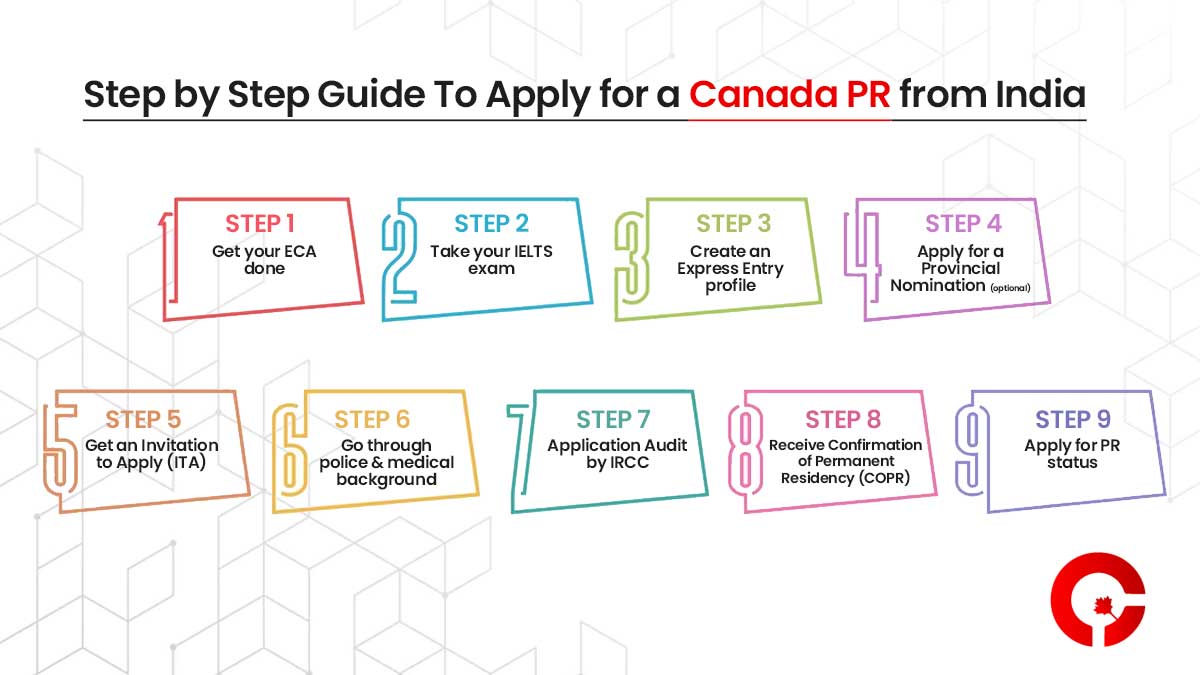 What is the processing time to apply for a Canada PR?
When we talk about Canada PR processing time it means the time that Immigration, Refugees, and Citizenship Canada (IRCC) takes to assess your application.
The other processes like submitting your Expression of Interest (EOI), gathering the required documents, biometric screening, etc. are not counted in the total application processing time for your PR Visa application.
Below are some of the popular Canadian immigration programs and the approximate application processing time.
Express Entry: 9-12 months.

Provincial Nominee Program: 15-19 months.

Quebec Skilled Worker Program: 15-17 months.

Atlantic Immigration Pilot: 6-9 months.
What is the cost to apply for a Canada PR from India?
The total cost for Canada PR from India depends on the immigration program you choose to apply through. The information below explains the costs for a Canada PR visa in Indian rupees and Canadian dollars. Because of the volatility in currency values, the Canadian immigration costs in Indian rupees vary. The following cost to immigrate to Canada from India, on the other hand, has remained quite steady.
Application Fees for Canada PR - CAD $825 (INR 49,500)

For a secondary application (which can be your spouse's), the fees remain the same - CAD $825 (INR 49,500)

For Each dependent child, the fee is (below 22 Years) – CAD $225 per child (INR 13,500)

Right of Permanent Residence Fees - RPRF (Landing Fees), per adult - CAD $500 (INR 30,000)

Right of Permanent Residence Fees - RPRF (Landing Fees), per child - NIL (NIL)

Language Proficiency Test Cost (CAD $250 – INR 14,700)

Medical Test Cost (CAD $95 - INR 5,500)

Police Clearance Certificate (CAD $20 - INR 1000)