In March of this year, Canada's immigration skyrocketed, raising the number of new permanent residents to a level that, if sustained, may push the country above the record-breaking objective set by Ottawa.
In March, the country received 40,785 new permanent residents, up more than 9.2% over the previous month's 37,335 and about 15% higher than the 35,415 in January. Canada expects to welcome 431,645 immigrants in 2022.
Current rates of immigration would welcome 454,410 newcomers
According to the most recent figures from Immigration, Refugees and Citizenship Canada (IRCC), the country has already gained 113,535 new permanent residents in the first three months of the year.
This year's record-breaking rate of immigration puts Canada on course to welcome 454,140 new permanent residents, which is 5.2% more than Ottawa's already ambitious immigration target for 2022. If the current pace of individuals that immigrate to Canada continues, the country will receive 48,140 more new permanent residents this year than the 406,000 who arrived in 2021, which was a record-breaking year for immigration.
The key drivers of this year's immigration increase are two things.
The one-time, temporary-to-permanent resident pathway (TR2PR), which began accepting applications last year, is still receiving new applicants, which is driving up the number of new permanent residents under the economic programs.
According to Ottawa's most recent immigration levels plan, Canada will welcome 32,000 new permanent residents this year. Ottawa's commitment to refugees, particularly Afghan and Ukrainian refugees, is another important driver of immigration to Canada this year.
The government welcomed 16,465 refugees and protected persons in the first quarter of this year, nearly 34% more than the 12,290 in the same three-month period last year and nearly double the 8,385 in the same time in 2020. The number of refugees who arrived in Canada during the first quarter of this year was even higher than the 9,685 who arrived during the same period last year, the final full year before the Covid-19 outbreak.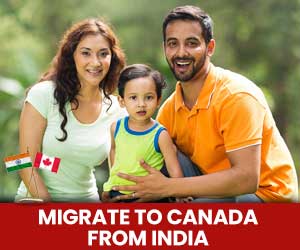 Get a Free Express Entry Assessment
Afghans and Ukrainians Fuelling Canadian Population Growth
Part of the reason for the increase in refugee numbers is Ottawa's commitment to providing a safe haven for Afghan refugees.
On Friday, Fraser tweeted, "Canada has now accepted 13,050 Afghan refugees, with more arriving every week."
"Another flight from Pakistan arrived in Toronto this morning, carrying over 300 Afghan newcomers who are supporting Canada's effort in Afghanistan."
The Canada-Ukraine Authorization for Emergency Travel (CUAET), which has already received over 204,000 applications as of May 4, is another major refugee conduit that is opening doors for migrants. By that time, Canadian immigration officials had approved 91,500 petitions.
Under the CUAET, Canada is committed to absorbing an unrestricted number of Ukrainian refugees.
"Canada is doing everything it can to help Ukrainians both before and after they arrive," Fraser stated.
Canada expects to welcome 447,055 new permanent residents next year and 451,000 in 2024, according to the Immigration Levels Plan released this year. In everything from agriculture and fisheries to corporate management and the tech sector, Ottawa touts rising immigration numbers as the solution to overcoming labor shortages and expanding the Canadian economy.
"Canada is one of the world's top talent destinations, and immigration is a driving force behind our tech sector's rise," Fraser tweeted earlier this year.
"By bringing qualified workers to Canada, businesses may thrive and decent jobs can be created across the country."