Canada's Immigration Minister, Sean Fraser finally announced Express Entry invitations for FSWP and CEC candidates will resume by early July.
Minister Sean Fraser also announced that Immigration, Refugees, and Citizenship Canada (IRCC) will be offering an open work permit extension of up to 18 months to candidates with a Post-Graduation Work Permit (PGWP).
Take Away From The Announcement
Express Entry to resume invitations for FSWP, CEC, and FSTP candidates in July.
IRCC plans on processing the vast majority of Express Entry applications within 6 months. Current Express Entry processing times range from 9 and 20 months.
Graduates with an expiring PGWP between January and December 2022 will now qualify for an additional open work permit of up to 18 months. IRCC estimates that as many as 50,000 PGWP holders will benefit from this – as about 95,000 PGWPs will expire in 2022.
Candidates will no longer require to be present in Canada during the entire time their application is being processed.
Candidates will now be able to apply for an open work permit, whilst they wait for their permanent residence application to be processed. Such open work permits will be valid until the end of 2024 – ensuring that all PR applications will be finalized before candidates need to apply for a temporary status extension.
To support family reunification, immediate family members in a primary candidate's PR application living outside of Canada will now be eligible to get their own open work permit.
Express Entry And The COVID-19 Pandemic
Until this year, Express Entry was the primary means by which Canada accepted economic-class immigrants.
The Canadian Experience Class (CEC), the Federal Skilled Worker Program (FSWP), and the Federal Skilled Trades Program (FSTP) are all managed by the Express Entry as an applicant management system. A portion of the Provincial Nominee Program (PNP) is also managed by the Express Entry. It's a point-based system in which qualified candidates are given a CRS score based on human capital and economic variables like age, education, language skills, work experience, and more.
Before the COVID-19 pandemic, IRCC would invite the highest-scoring candidates to apply for immigration. Typically, these draws did not choose candidates based on their eligibility program.
Despite travel restrictions, IRCC focused on inviting CEC candidates earlier in the pandemic to meet its targets of admitting a record-high number of immigrants in a single year. Because CEC candidates are usually already in Canada, they are not subject to the travel restrictions imposed by Canada between 2020 and 2021. In 2021, Canada welcomed almost 405,000 permanent residents, the biggest number in the country's history.
IRCC has also focused on engaging PNP candidates to facilitate provincial immigration targets throughout the pandemic.
Backlogs in the immigration system, the majority in Express Entry, have come from the combination of this shift in Express Entry policies and pandemic-related limitations. As a result, IRCC has not solicited FSWP or CEC candidates since December 2020 and September 2021, respectively.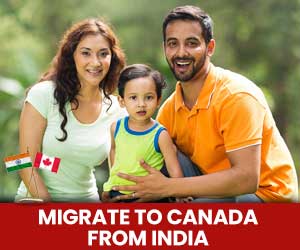 Get a Free Express Entry Assessment
The scarcity of invites to the FSWP and CEC comes at a time when Canada is experiencing record labor shortages. Unemployment is at an all-time low, while job openings are at all-time highs.
International students who have graduated from a Canadian-designated learning institution and are seeking a Post-Graduation Work Permit are among the most common CEC candidates. The PGWP is an open work permit that allows international graduates to work in Canada for one year before applying for permanent residency. In general, you can only receive a PGWP once, which means that if you are unable to apply for permanent residence while holding the PGWP, you risk losing your work permit status until you can find another work permit that meets your requirements.
As a result, CEC candidates have been losing their work permits because they are unable to apply for a Bridging Open Work Permit (BOWP) while waiting for IRCC to process their permanent residence applications due to a lack of Express Entry Invitations to Apply (ITAs). The BOWP "bridges" the gap between the expiration of a work permit, such as the PGWP, and the candidate's eventual status of permanent residence. The BOWP allows some permanent residents to keep working in Canada for any employer of their choice.
Between January and July 2021, IRCC issued an exception to its PGWP policies by granting a one-time 18-month open work permit. The goal was to offer PGWP holders additional time to gain the necessary work experience to be eligible for permanent residence in Canada.
Between its inception back in 1967, and the current decision by IRCC to focus on inviting and processing CEC candidates, the FSWP was the primary source of foreign skilled immigrants to Canada. Due to the aging of Canada's population and the pandemic causing dramatic changes in the labor market, this temporary pandemic-induced policy shift has limited the flow of foreign skilled immigrants into the Canadian workforce at a time when the labor market has been historically tight.
To counter, IRCC is aiming for 55,000 permanent residents through Express Entry in 2022, which is nearly half of its 2021 goal. The temporary drop in Express Entry targets is to allow the government to wind down its Temporary to Permanent Residence (TR2PR) program and focus on other priorities. Through the TR2PR program, IRCC invited around 90,000 international graduates and essential workers to apply for permanent residence between May and November 2021.
As stated in Canada's Immigration Level Plan 2022-2024, immigrants can expect Express Entry landings to increase over the next two years – where IRCC plans on inviting more than 110,000 newcomers through the Express Entry program by 2024.
More Applications To Be Processed
Express Entry application backlog has now been reduced to half – from nearly 112,000 in September 2021 to 48,000 in March 2022. IRCC has also doubled the number of permanent resident decisions made in the first quarter of 2022, where it finalized 156,000 PR applications between January 1 and March 31, 2022. The IRCC also processed over 100,000 work permit applications in the first quarter of 2022 – compared to just 58,000 during the same period last year.