According to new IRCC data, Canada is off to a solid start this year. In the latest IRCC figures, Canada welcomed 35,260 new permanent residents in January 2022. The numbers reveal that Canada is off to a good start as it prepares to welcome over 400,000 new immigrants for the second year in a row. In January, the economic class accounted for 65% of new permanent resident arrivals, which is greater than the 56 percent target set by the levels plan. The percentage of people who fall into the family class is 20%, which was lower than the aim of 24% set by the Immigration Levels Plan. The remaining 15% of landings were in the refugee and humanitarian category, which is less than the 20% level plan aim for 2022.
With over 7,700 immigrants invited through the Canadian Experience Class (CEC), it remains the most popular program for new economic class arrivals. Nearly 7,000 immigrant landings in January came from the Temporary Resident to Permanent Resident (TR2PR) Program. With 4,200 immigrant landings, the Provincial Nominee Program came in third among the economic classes. And the Federal Skilled Worker Program (FSWP) was fourth, with nearly 2,600 landings.
According to IRCC data, the department is processing FSWP applications at a faster rate than before. This is significant since, between 1967 to the outbreak of the pandemic, the FSWP was Canada's most popular economic-class immigration program. IRCC reduced FSWP processing last year in order to convert as many international students, temporary foreign workers, and other temporary residents as possible to permanent residence in order to meet its 2021 Immigration Levels Plan target.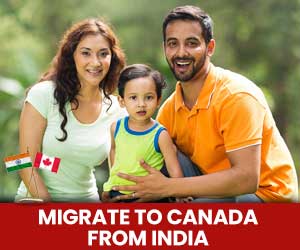 Get a Free Express Entry Assessment
Another reason the January 2022 immigrant admissions data are noteworthy is that they are expected to be the lowest point in the monthly landings Canada can expect this year. Prior to the pandemic, Canada's immigration landings were normally lower in the first and fourth quarters of each year due to the colder weather and the winter holiday season. In the warmer spring and summer months of Q2 and Q4, landings would increase by roughly 40%. A higher rate of immigration landings in Q2 and Q3 of this year is expected, given that IRCC is processing more applicants from abroad, however, the extent of the growth may not be higher than 40%, given that IRCC still has many in-Canada permanent residents applications to process.
In 2021, when there were substantial COVID-19 operational obstacles such as Canada's travel limitations and global difficulties, there is less question that Canada will be able to meet and even surpass its immigration targets in 2022. In fact, IRCC has demonstrated that it can process even more permanent residency applications than it did before Covid-19 struck the world.