Hong Kong used to be the most popular destination for immigrants to Canada. According to new IRCC data, the number of Hong Kong citizens migrating to Canada for permanent residency, work, and study has increased dramatically.
Hong Kong immigration is on the rise again in Canada.
In comparison to pre-pandemic levels, new data from Immigration, Refugees and Citizenship Canada (IRCC) shows a 50% rise in Hong Kong permanent residency landings and a four-fold increase in study and work permit applications.
Up until 1997, Hong Kong was the most common source of immigration to Canada, with up to 30,000 Hong Kong residents arriving each year. Hong Kong was eclipsed by China, India, and the Philippines in 1998, and these three countries continue to be the top three contributors of new immigrants to Canada to this day.
Prior to the handover of Hong Kong's sovereignty from the United Kingdom to China in 1997, immigration from Hong Kong to Canada soared. Residents of Hong Kong were unsure of the handover's consequences, so they fled to nations like Canada in search of economic and political stability. Following the handover, much fewer Hong Kong citizens went to Canada, with only approximately 1,500 gaining permanent residency in Canada per year prior to the pandemic.
In 2020, Canada announced a series of measures aimed at encouraging more Hong Kong residents to come to Canada as employees, students, or immigrants, building on the country's long-standing social, cultural, and economic connections with Hong Kong.
This included the launch of two new immigration programs:
Hong Kong citizens who have graduated from a Canadian post-secondary institution within the previous three years are eligible for permanent residency under Stream A.
Hong Kong citizens who have graduated from a post-secondary institution in Canada or overseas and have at least one year of work experience in Canada are eligible for permanent residence under Stream B.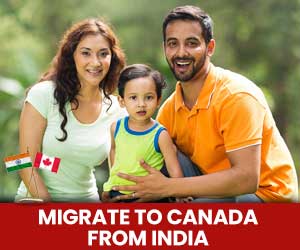 Get a Free Express Entry Assessment
In order to assist people seeking permanent residency in Canada achieve the requirements of Stream B, Canada has additionally introduced an Open Work Permit for Hong Kong Graduates.
The open work permit, which is valid for up to three years, allows Hong Kong citizens to work in any job and for any employer in Canada. They can apply for immigration under Stream B after acquiring at least one year of work experience in Canada. The open work permit requires that you have graduated from a post-secondary institution within the past five years. Candidates must hold a university diploma or a degree from a program that lasted at least two years.
Early indications reveal that Hong Kong residents are supportive of the new Canadian government initiatives. In 2021, approximately 2,300 Hong Kong citizens were granted permanent residency, up nearly 50% of the pre-pandemic total of just over 1,500 permanent residents in 2019.
In July 2021, IRCC began accepting immigrants under Stream A and Stream B. IRCC landed 620 people under Stream A and 40 people under Stream B between July and December of last year (note that these figures are part of the 2,300 Hong Kong residents that immigrated in 2021).
IRCC landed a further 120 migrants under Stream A and 5 people under Stream B in January 2022, according to statistics. The low Stream B results are due to the fact that candidates from Hong Kong will need time to earn the one year of Canadian work experience required to apply to the stream. According to the research, Stream B will have a greater uptake in the future.
In 2021, 10,143 Hong Kong residents and British nationals living abroad were granted work permits in Canada. This is a significant rise over the 931 people who received work permits in 2019.
IRCC awarded almost 1,300 work permits to Hong Kong residents in January alone. If IRCC keeps on its current pace, the number of work permits given to Hong Kong residents would surpass 15,000 by the end of 2022.
Meanwhile, around 6,000 study permits were issued in 2021, compared to approximately 1,100 in 2019. These students may be able to apply for immigration under Stream A once they have completed their studies in Canada.
In 2021, over 20,000 people sought for work permits, study permits, and extensions, up from over 4,700 in 2019.
These results clearly imply that, for the first time since 1999, the number of Hong Kong permanent residents arriving in Canada might exceed 3,000 by the end of 2022.