Budget 2022 includes recommendations for Express Entry, TFWP, application processing, and other topics. Chrystia Freeland, Canada's Finance Minister, has just released the country's first budget since the September 2021 federal election.
The budget details the Canadian government's anticipated spending and earnings. It is one of the most significant announcements made by the federal government each year since it details the condition of Canada's economic and fiscal health as well as the government's policy goals.
Budget 2022 Highlights and the Immigration Goals
The federal government intends to modify the Immigration and Refugee Protection Act (IRPA) to provide the immigration minister with the ability to employ Ministerial Instructions to assist in selecting individuals who best fit Canada's labour market demands. The federal government has not released any further information on the reforms it intends to make but has made several provisions to boost Canada immigration further.
Canada will provide $2.1 billion over five years and $317.6 million in continuous financing to help its efforts to process and settle over 400,000 new permanent residents each year.
The government intends to invest $29.3 million over three years to develop a Trusted Employer Model to reduce red tape for the TFWP. Repeat employers who satisfy the highest requirements for working and living conditions, rights, and pay in high-demand industries will be eligible for the Model. More information will be released in the next year.
In addition, the federal government intends to invest $48.2 million in the development of a new simplified TFWP for agricultural and seafood processing companies.
Furthermore, it intends to invest $64.6 million over three years to expand its capacity to handle employer applications in accordance with established service standards.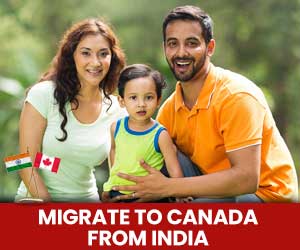 Get a Free Express Entry Assessment
Budget 2022 proposes spending $187.3 million over five years and $37.2 million on an ongoing basis for Immigration, Refugees, and Citizenship Canada (IRCC) to improve its ability to respond to an increasing number of inquiries and to invest in the technology and tools required to support its clients better.
To handle increased levels of citizenship applications, the government proposes to alter the Citizenship Act to allow for automated and machine-assisted processing and the safe and secure collecting and use of biometrics.
Major immigration announcements are occasionally made in the budget. For example, the 2014 budget said that Canada would invest millions of dollars to ensure that Express Entry would be available in January 2015.
Canada allocated $485 million to overhaul the immigration system in 2021. Budget 2021 included five key immigration commitments, some of which have already been fulfilled, such as financing for the Temporary Residence to Permanent Residence (TR to PR) programme. It also advocated for the Global Case Management System (GCMS), which handles immigration applications, to be replaced.
Furthermore, Budget 2021 promised increased funding for the Temporary Foreign Worker Program (TFWP). The increased monies would improve employer compliance checks to avoid worker exploitation and assist vulnerable foreign employees by allowing them to get open work permits if their Canadian employers harmed them. Finally, Budget 2021 suggested increased investment in activities to improve the employment outcomes of coloured immigrant women.
On April 4, Canada announced five additional TFWP changes which include:
LMIAs (Labour Market Impact Assessments) will now be valid for 18 months, up from nine months before.

The maximum period of employment for High-Wage and Global Talent Stream employees will be extended from two to three years.

There will be no cap on the number of low-wage jobs that firms in seasonal sectors can fill through the TFWP.

Employers will be permitted to have a team comprised of 20% -30% foreign personnel, depending on the industry, up from 10%.

In places with an unemployment rate of 6% or greater, Canada will no longer automatically deny LMIA applications for low-wage jobs in the lodging, food services, and retail trade sectors.
In March, Canada enacted various measures to assist Ukrainians in escaping the conflict. As a result, Ukrainian nationals and their partners and children can enter Canada on a temporary visa known as the Canada-Ukraine Authorization for Emergency Travel (CUAET). This visa permits holders to stay in Canada for a maximum of three years. Canada declared in February that it is increasing immigration numbers to bolster its post-pandemic economic recovery. The Immigration Levels Plan 2022-2024 plans for increased levels over the following three years, with Canada anticipating a record 431,645 new permanent residents in 2022. Before the epidemic, it aimed to accept 340,000 immigrants per year, but it now expects to accept 451,000 by 2024.
Immigration Minister Sean Fraser outlined in January, the actions IRCC is taking to enhance processing standards and reduce backlogs.
Following the budget's presentation, elected officials in Canada's Parliament will vote on it. If a majority of MPs vote against the budget, an election will be called. However, this is extremely unlikely to occur because the New Democratic Party has already stated its support for the budget as part of an agreement with Prime Minister Justin Trudeau's ruling Liberal Party.