Indian partners have been dominating Canada's immigration figures for partner/spousal sponsorships in recent years. This wasn't always the case, according to data from Immigration, Refugees and Citizenship Canada (IRCC), more spouses from Philippines became permanent residents in Canada in 2015 before. Every year afterwards, Indians have topped the results, notably in 2021, when 10,705 Indian common-law-partners became permanent residents counting for 17% of the total of 64,340.
Since last year, spousal applicants from the Philippines, the United States, and China made up significant groups of partner permanent residents, but Indians have been taking over this immigration category as pr recent numbers. Six years later, the numbers show a different scenario as Philippines account for 4,370 of the 46,360 arrivals, or 9.4% of the total.
In 2022, Canada's current Immigration Levels Plan aims to bring 80,000 immigrants into the country through PR pathways from spouses, partners, and children. This figure represents the majority of the 1,05,000 Family Class immigrants expected to arrive this year, with the Parents and Grandparents Program bringing in the rest. It demonstrates that there are numerous choices available to Canadian citizens and permanent residents who wish to bring their families to the country.
Who can apply for the spousal sponsorship program?
If you are a Canadian citizen or permanent resident and meet the following criteria, you may be able to sponsor your spouse, conjugal partner, or common-law partner.
You must be at least 18 years old.
If you live in Canada or plan to return once your spouse or partner becomes a permanent resident.
You are able and willing to meet your spouse's/partner's basic financial needs for the next three year.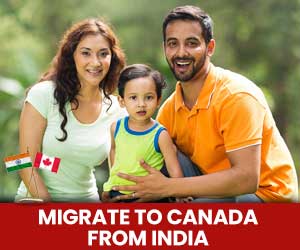 Get a Free Express Entry Assessment
How to apply for Spousal Sponsorship?
You must submit two applications at the same time to complete the application process:
Your application for sponsorship to your spouse/partner
Permanent residency application of your spouse
The procedure of applying for sponsoring a spouse has the following easy steps:
Step 1: Download the application package from the government website; it includes a handbook, instructions, and paperwork to assist you in completing the process correctly.
Step 2: Pay the application fee over the internet, which comprises the following:
Processing fees for all persons included in the application;
Right of Permanent Residence Fee;
Biometrics fees;
Other third-party fees, if applicable.
Step 3: Follow the submission steps in the handbook you downloaded to submit your application.
Step 4: When prompted, submit the relevant supporting documentation.