One of the best ways to work in Canada is to obtain an Open Work Permit. Open work permits allow people to travel freely between companies, occupations, and locations across Canada. To hire a foreign worker with an open work permit, Canadian firms are not even required to do a Labour Market Impact Assessment (LMIA).

Let's have a look at some of the ways to apply for an Open Work Permit in Canada:
For PR applicants
The first option is for PR applicants. Bridging Open Work Permits allow those who have filed for permanent residency in Canada to stay in the country while their application is being processed. If a foreign national's temporary status expires before their permanent residency application is processed, the BOWP ensures that they do not have to leave their occupations or the country. It also means that employers are not required to obtain an LMIA-based work permit in order to keep their international workers.
The following immigration programs are eligible for a BOWP:
Federal Skilled Worker Program

Canadian Experience Class

Federal Skilled Trades Program

Provincial Nominee Program

Quebec Skilled Workers

Agri-Food Pilot Program
For Spouses of temporary residents and Canadians
The second option is Spousal Work Permit. If they apply under inland sponsorship and live in Canada with their partner, spouses of Canadian citizens and PR holders are eligible for a Spousal Open Work Permit.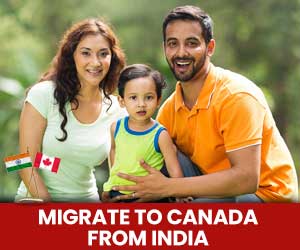 Get a Free Express Entry Assessment
Temporary foreign workers' spouses may also be eligible for an open work permit. The temporary foreign worker must meet specific eligibility requirements, such as having a valid work visa for six months after receiving the open spousal work permit, among others. Working in a National Occupational Classification (NOC) skill level of 0, A, or B; working in any occupation when accepted into an Atlantic Immigration Program (AIP) stream; working in any occupation with a provincial or territorial nomination from the Provincial Nominee Program (PNP); or working in any occupation and holding a Quebec Selection Certificate (CSQ) are the four conditions that the foreign worker must meet . Additional program-specific criteria must also be met, depending on the program.
Citizens of foreign countries with reciprocal agreements
The third option is if you are an applicant of International Experience Canada (IEC). This program is designed to allow overseas youth from over 30 different countries to work in Canada.
A Working Holiday visa may be available to youths aged 18 to 35. Applicants do not need a job offer to participate in the IEC, but they must complete the eligibility requirements. The candidates of this program must have the equivalent of $2,500 CAD in cash to pay expenditures, not be accompanied by dependents, and be allowed to Canada, among other requirements.
International Graduates
The final category is for international student graduates who were eligible for a Post-Graduation Work Permit (PGWP). Foreign graduates who have finished a full-time study program of at least two years may be able to work in Canada for up to three years after graduation.
International students must attend a Designated Learning Institution (DLI) in Canada to be eligible for this. As a result of the pandemic, the IRCC has allowed for some modification in the eligibility standards. For example, between March 2020 and August 2022, IRCC will allow overseas students to complete 100% of their academic program online.