According to Statistics Canada research, the median income of immigrants with no Canadian experience is lower than that of individuals who have worked and are educated in Canada. According to a new Statistics Canada report, immigrant incomes have risen in recent years. Immigrants who became Canadian permanent residents in 2018 earned median pay of $31,900 in 2019, the highest of any cohort of immigrants who arrived in Canada since 1981.
It was also almost 4% greater than what 2017 immigrants earned in 2018. However, it was roughly 18 percent lower than the median wage of Canadian-born employees in 2019, which was $38,800.
These figures come from recent research on immigrants' salaries conducted by Statistics Canada. In addition, the study used data drawn from the Longitudinal Canada Immigration Database, which allows researchers to investigate the characteristics of Canadian immigrants at the time of admission and subsequent economic results and geographical mobility. It is the first in a two-part series on the results of immigrants. The second section focuses on immigration mobility.
In 2019, the median incomes of economic-class immigration program applicants were greater than those of the Canadian-born population. One year later, these immigrants who arrived in 2018 had a median pay of $43,600, which is more than 12% more than the Canadian median earnings in the same year ($38,800).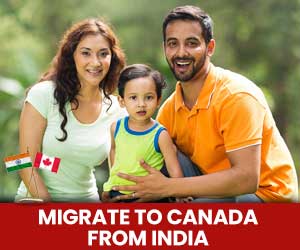 Get a Free Express Entry Assessment
The cause for this might be related to how economic-class immigrants are chosen. "Principal candidates in the economic categories are chosen for their capacity to integrate into the Canadian labour market and contribute to the economy," according to the study. "The majority have a postsecondary education and are fluent in at least one official language."
Pre-immigration experience in Canada appears to affect immigrants' salaries since it allows newcomers to strengthen their language skills and understanding of the Canadian labour market. Canadian experience was divided into work and study experience, particularly work experience, and particularly study experience.
One year later, immigrants who had both employment and study experience before admission had the highest median salary. The 2019 median pay for these immigrants accepted in 2018 was $44,600, greater than the $38,800 recorded by the Canadian-born population that year.
Work-related experience, in particular, aided immigrant salaries in the first year following arrival. Immigrants with no prior job experience had a median pay of $39,300 in 2019, which was also greater than the Canadian-born population.
Immigrants with only study experience prior to landing had the lowest median pay, one year after the landing i.e., $15,100 in 2019, most likely because this group is younger on average than their peers. The 2018 immigrants had higher median incomes one year after arrival in all three categories than the 2017 immigrants.
Between 2010 and 2019, median incomes increased for both men and women across all immigration categories. However, immigrant men and women benefited differently.
Initially, women's median salary was lower than men's and climbed quicker among economic-class primary applicants. As a result, the income disparity between men and women grew throughout time, favouring males. According to the study, more research is needed to establish why this may be the case.
All other types of immigration saw the reverse impact. For example, women's median salaries began lower than men's but climbed quicker in the following immigration categories: economic dependents (such as wives of primary applicants), refugees, and family-sponsored immigrants.