Temporary residents have numerous options to remain in Canada while awaiting a permanent or temporary residency extension. From Work Permits, to Study Permits, to Spousal Work Permits let's have a look at the options through which immigrants can choose to stay in Canada.

1.Maintained Status

Temporary residents who seek for a new temporary status and whose documents are about to expire before IRCC makes a decision have an option to not leave Canada. Students, travellers, and temporary foreign employees with Maintained status can continue in Canada under the same circumstances as their previous permission until their new application is approved.
2.Work Permit

Work permits in Canada are divided into two groups: those that require a positive Labour Market Impact Assessment (LMIA) and those that are LMIA exempt.
The purpose of an LMIA is to show the Canadian government that there is a real need for a foreign worker to fill a vacancy. The LMIA process must be completed by the company, not the employee. The employer gives the worker a copy of the confirmation letter when Employment and Development Services Canada (EDSC) issues a positive or neutral LMIA to the employer. The worker then applies to IRCC for a work permit.
Most temporary foreign workers, on the other hand, have work permits that are not subject to the LMIA. From the government's standpoint, the goal of LMIA-exempt work permits is to assist Canadian interests. Significant benefit and reciprocal employment are the two most popular LMIA-exempt work permit types. A foreign national whose labour will assist Canadians socially, culturally, or economically is defined as "substantial benefit" in Canada. Reciprocal employment occurs when Canada and another country reach an agreement that allows for the cross-border exchange of workers. Foreign workers can have similar options in Canada that Canadian workers can have abroad, hence the labour market impact is deemed neutral.
3.Study Permit

Obtaining a study permit may allow you to remain in Canada if it makes sense for your profession and financial position. During the academic year, you will be able to work part-time and full-time during scheduled breaks. You must first be admitted into a Designated Learning Institution (DLI) to obtain a study visa. You can then use your acceptance letter to apply for a study permit in Canada.
If you successfully complete your programme, you may be able to stay in Canada under the PGWP (if you have never had one before). You'll also be eligible for special avenues to permanent residency for international student graduates.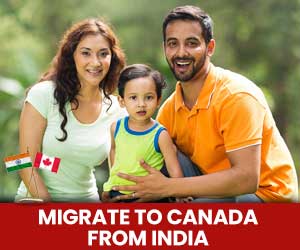 Get a Free Express Entry Assessment
4.Spousal Open Work Permit (SOWP)

If you apply for sponsorship from within Canada, you are considered an in-land applicant and may be eligible for a Spousal Open Work Permit (SOWP), which is designed expressly for spouses and common-law partners of Canadians who are in the process of immigration.
Temporary residents' spouses may also be eligible for an open work permit. Temporary foreign workers must meet specific eligibility requirements, such as possessing a valid work permit for six months after receiving an open spousal work permit, among other things.
International students' spouses may be eligible for an open work permit if they can show the government that they are in a real relationship and that their spouse is an international student in a valid study program.
5.Bridging Open Work Permit (BOWP)

The Bridging Open Work Permit (BOWP) enables certain permanent residency candidates to remain in Canada after their temporary status expires.
The following immigration programs are eligible for a BOWP:
Federal Skilled Worker Program

Canadian Experience Class

Federal Skilled Trades Program

Provincial Nominee Program

Quebec Skilled Workers

Agri-Food Pilot Program
6.Post-Graduation Work Permit (PGWP)
For overseas student graduates who have finished a post-secondary program at an approved Designated Learning Institution (DLI), the Post-Graduation Work Permit (PGWP) may be an option to stay in Canada. It is an open work permit, which means the holder is not bound to a single employer or occupation.
Study programs that last longer than eight months but less than two years may be eligible for a PGWP that matches their duration. International students who have completed two-year or longer programmes may qualify for a three-year PGWP.