The start of the coronavirus pandemic in 2020 altered the path of Canada's immigration system, and while things have stabilized, the epidemic forced IRCC to undertake significant changes in 2021.
Immigration, Refugees, and Citizenship Canada (IRCC) began 2021 in harsh conditions. Immigration application backlogs were growing, many newcomers, such as Confirmation of Permanent Residence (COPR) holders, were stranded overseas, COVID case levels were high at home and around the world, vaccination rates remained low, travel restrictions and Canada's public health measures posed challenges for newcomers seeking to enter the country, and despite all of this, the federal government mandated IRCC with landing 401,000 new permanent residents this year.
Early in the year, IRCC determined that the best method to meet this aim was to convert as many temporary residents residing in Canada to permanent residents as possible. In retrospect, the warning indications of this policy shift at the start of the year were evident, but in the lack of official IRCC policy announcements, stakeholders were left speculating. As a result, IRCC sent Express Entry invites to all applicants through the end of 2020. It began 2021 by focusing on Canadian Experience Class (CEC) candidates, as 90 percent of them dwell in Canada.
On February 13, 2021, the IRCC's approach for meeting its 401,000-newcomer objective became clearer. On that Saturday, the IRCC held the most remarkable draw since the beginning of Express Entry in 2015. It encouraged all 27,332 Express Entry candidates in the pool to apply for permanent residence and felt obligated to provide a statement explaining its decision. The message also stated that IRCC was looking forward to accepting more persons from other countries once the COVID situation improved.
In May, IRCC went even further to assure that it would meet its 401,000-newcomer objective by launching six temporary streams that would allow up to 90,000 critical workers and overseas graduates in Canada to apply for permanent residence. By June, IRCC had increased its processing capacity, landed 35,000 permanent residents per month (mainly from within Canada), and recently exceeded 45,000 monthly landings.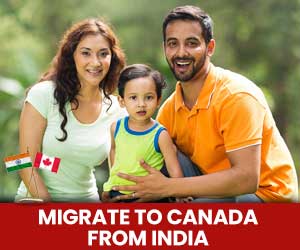 Get a Free Express Entry Assessment
Last week, the agency triumphantly revealed that it had broken Canada's record for permanent resident landings in a calendar year. However, while the approach of focusing on in-Canada landings has allowed IRCC to meet its numerical target and hundreds of thousands of people to become permanent residents, it has also come at a cost.
The IRCC's backlog has increased to 1.8 million applications, which it concedes is partly due to its approach of prioritizing applicants from within Canada. As a result, many COPR holders and applicants for permanent residence, study, employment, and visitor visas are waiting for IRCC to complete their documents for longer than normal.
Candidates for the Federal Skilled Worker Program (FSWP), who were the majority of Express Entry immigrants prior to the epidemic, are still waiting for their names to be picked from the pool. Furthermore, due to the in-Canada approach, Canada's population and labour force growth has slowed, contributing to some of the greatest job vacancy levels in Canadian history.
Many conditions outside IRCC's control continue to restrain it, such as COVID case counts and government lockdown measures in Canada and overseas, as well as the Canadian government's travel rules. For example, the Canadian government's decision earlier this year to block flight arrivals from India (a ban that has been overturned), Canada's biggest source nation of immigrants, provided a significant challenge for IRCC.
Despite continued difficulties, IRCC has endeavoured to keep the immigration system operational. For example, in January, it introduced a policy enabling Post-Graduation Work Permit (PGWP) holders to seek for a one-time extension to get an open work permit. The goal was to offer people in Canada more time to gain the job experience required to seek for permanent residency. As another example, it asked 30,000 sponsors to apply for the Parents and Grandparents Program in the autumn.
Of course, such policies are formed by the elected government of the day. The Liberal Party of Canada was re-elected to a third straight mandate in September. Since taking office in 2015, they have presided over considerable increases in Canada's immigration numbers, which have risen from over 260,000 new permanent residents in 2015 to over 400,000 now.
Following the election, Prime Minister Justin Trudeau named Sean Fraser, a Nova Scotia lawyer, as the next Minister of Immigration. Trudeau sent Fraser a fresh immigration mandate letter earlier this month. Fraser's marching orders include:
Continuing to oversee increased levels of immigration.
Reducing application processing times.
Resettling 40,000 Afghan refugees.
Reuniting families more rapidly.
This year is finishing in a similar manner to how it began. COVID levels are rising in Canada and throughout the world, creating further uncertainty. Nonetheless, the Canadian government sees immigration as a crucial tool for assisting Canada's economic and social recovery.
Although the pandemic will continue to present challenges for IRCC and newcomers alike, Canada's overarching immigration policy goals remain unaffected by the pandemic, which means that the arrival of permanent residents, temporary foreign workers, international students, and visitors should eventually return to normal and will likely exceed pre-pandemic levels once the worst of the crisis has passed.