An account of how Canada achieved the highest level of immigration in its history despite a tough pandemic situation. According to fresh IRCC figures, Canada exceeded its 2021 immigration target by accepting 405,303 new permanent residents last year. Only once in its history has Canada reached 400,000 newcomers, in 1913. The First World War started out the next year, and immigration numbers fell.
The Immigration Levels Plan 2021-2023 sought to welcome 401,000 immigrants in 2021 to help Canada's economic recovery following the pandemic. Canada only received 184,000 new immigrants in 2020, resulting in the country's population growth slowing to its lowest level since the First World War. Prior to the epidemic, Canada planned to accept 341,000 new immigrants each year.
In order to fulfil its objective in 2021, Immigration, Refugees, and Citizenship Canada (IRCC) concentrated on converting as many temporary residents who were already in Canada to permanent residents as possible. IRCC believed that this was the most effective strategy to meet its goal in the face of COVID-19 travel limitations and other pandemic-related hurdles. Among the steps it took to attract additional permanent residents from within Canada, IRCC sponsored Express Entry draws from January to September, inviting a large number of Canadian Experience Class (CEC) candidates. IRCC created six immigration pathways "TR to PR" in May in an effort to attract an extra 90,000 international students and temporary foreign workers to Canada.
The majority of immigrants to Canada enter under economic class programmes. Prior to the pandemic, 30% of new economic class entries were from inside Canada, while 70% came from outside the country. In 2021, this was reversed, with 70% of passengers arriving from inside Canada and 30% arriving from outside.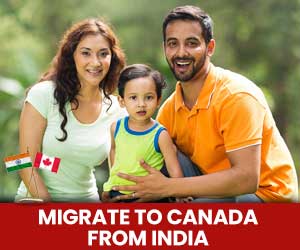 Get a Free Express Entry Assessment
The massive CEC invitation rounds conducted by IRCC, as well as the debut of the six TR to PR streams, assist to explain why landings grew dramatically in the second half of 2021. IRCC received a substantial number of new in-Canada applications in the first part of last year, then sped up processing by June to land upwards of 40,000 permanent residents per month by the end of the year.
In terms of the most current month-by-month number of new permanent resident landings in Canada in 2021, May was the slowest, while November was the busiest. It was discovered that there was a negative tendency during the first five months of the year, followed by an increase beginning in June.
The economic class landed a total of 252,975 permanent residents. This equates to 62 percent of all immigrants landing in 2021, which is greater than the 58 percent rate set in the 2021 levels plan. In reality, Canada received nearly 20,000 more middle-class immigrants in 2021 than it had planned.
In 2021, a total of 80,990 family class immigrants arrived, falling far short of Canada's aim of 103,500 family class immigrants under the 2021 levels plan. Last year, the family class accounted for 20% of new landings, falling short of the level plan objective of 26%.
In total, 60,115 permanent residents arrived in Canada as refugees and protected persons, somewhat less than the 65,000-person objective set by the government. This amounted to 15% of all new landings, which was somewhat less than the 16% aim set by the levels plan. The remaining funds were classed as "All Other Immigration" by IRCC.
CEC is the leader, accounting for nearly one-third of all new permanent residents. With 130,555 persons landing via the programme, or 32% of all immigrants landing in 2021, the CEC was the top gateway for new permanent residents. In 2019, the CEC accounted for over 30,000 persons, or approximately 9% of total new arrivals.
IRCC approached 2021 believing it would have to rely primarily on the CEC to meet its 401,000 objectives. As an example of the considerable measures the department took to in order to land high levels of CEC candidates, on February 13, 2021, the department invited all 27,332 CEC applicants in the Express Entry pool, by far the most exceptional draw in Express Entry's history.
The draw was exceptional in that it saw nearly five times the number of invitations issued than the previous record, with the lowest Comprehensive Ranking System (CRS) score requirement since Express Entry's inception in 2015, and every single CEC candidate in the pool on that date receiving an invitation to apply for permanent residence.
In 2021, IRCC only landed 8,320 workers under the Federal Skilled Worker Program (FSWP). The FSWP was the primary programme for new federal economic class landings prior to the epidemic. In 2019, Canada received 58,760 immigrants through the FSWP.
Last year's decrease was due to IRCC prioritising CEC and other applications received from within Canada. According to newer IRCC data, FSWP application processing has increased since December, with IRCC currently processing an average of 800 FSWP applications each week.
Last year, the Provincial Nominee Program (PNP) accounted for 53,960 landings. The PNP has been fully active throughout the epidemic, with IRCC and provinces and territories performing frequent invitation rounds, and in some cases, weekly. The temporary TR to PR programme resulted in the arrival of 23,885 persons. This means that IRCC is yet to hire the majority of the 90,000 persons who applied for the programme in 2021.
Spouses and partners make up the majority of family class landings. Last year, there were 64,120 landings. Last year, Ontario received 49 percent of all new immigrants, a greater percentage than the 45 percent it received previous to the pandemic in 2019. This can be explained in part by IRCC's reliance on the CEC, considering that the majority of these applicants live in Ontario. BC benefited greatly from IRCC's reliance on the CEC. It received 17% of all new immigrants, compared to 15% in 2019.
Quebec came in third, accounting for more than 12% of 2021 landings, followed by Alberta, which accounted for almost 10%. Quebec's portion stayed unchanged from 2019, but Alberta's share declined from the 13% it received in 2019. Alberta's smaller proportion can be attributed in large part to the fact that it does not get as many immigrants under the CEC as Ontario and British Columbia. Manitoba and Saskatchewan also saw their national shares decline for the same reason.
The Atlantic area as a whole saw its national share drop as well, because it relies on the PNP and the Atlantic Immigration Pilot for arrivals. Nova Scotia, on the other hand, established a provincial record by welcoming almost 9,000 immigrants last year.
The main source nations for new immigrant arrivals in Canada are comparable to those before the epidemic. India is the top source nation, accounting for nearly one-third of landings in 2021, up from 25% in 2019. This might be explained by the large number of CEC landings. The biggest source of overseas students in Canada is India, and many of these students eventually earn permanent residency through the CEC.
India (32%), China (8%), the Philippines (4.3%), Nigeria (3.8%), France (3.2%), the United States (3%), Brazil (2.9%), Iran (2.8%), South Korea (2.1%), and Pakistan (2 %) are the top ten nations contributing to Canada's growing immigration numbers.
Canada is aiming for 411,000 arrivals in 2022, but this figure might change when the federal government releases its revised Immigration Levels Plan 2022-2024 on Monday, February 14. The new strategy will lay out Canada's immigration goals for the next three years, as well as the admission classes and programmes that will be targeted.