Despite the pandemic's obstacles, the Canadian government planned to attract 401,000 new immigrants, the biggest number since Canada became a country in 1867. In a recent news statement outlining the actions it is taking to enhance application processing, the government emphasised that Canada had surpassed its objective and landed around 405,000 immigrants last year. While the verdict benefited many immigrants, it also harmed countless others. Here are some ideas for getting the immigration system back on track. The Canadian government set an ambitious immigration target for 2021.
Congratulations to Immigration, Refugees, and Citizenship Canada (IRCC). Attaining this goal in such a challenging operational environment is remarkable. Despite the fact that the pandemic continues to pose obstacles for applicants and the immigration department, IRCC has managed to defy all odds and enrol a record number of new permanent residents. Congratulations are also in order for the numerous new permanent residents who will be able to pursue their dreams and goals in Canada. Permanent residents who benefited from exceptional actions and policies during the epidemic, such as IRCC lowering Express Entry score standards and launching an immigration programme for vital workers and foreign graduates in 2021, are among those eligible.
IRCC is evidently pleased with its accomplishment, as seen by a press statement published just before Christmas. On the other hand, IRCC has acknowledged that its choice to target 401,000 landings in 2021 has had a detrimental impact. Unfortunately, these repercussions might have been averted if the Canadian government had selected a more sustainable immigration programme last year.
The goal of raising the immigration objective was to boost the population, labour force, and economic growth while simultaneously reuniting families and assisting refugees. Given that 60% of new immigrants are economic, it is reasonable to assume that Canada's primary immigration goal is economic in nature.
Nonetheless, last year, the Canadian government's aim compromised its own purpose of helping the economy through immigration. It made the decision to prioritise the transfer of more persons from within Canada to permanent residency. Prior to the pandemic, around 30% of new economic class permanent residents came from inside Canada, while 70% came from outside. Last year, this was reversed, with 70% of new economic class landings coming from inside Canada and 30% coming from outside.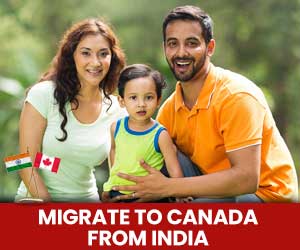 Get a Free Express Entry Assessment
The restricted influx of new immigrants from overseas is one of the first consequences of this choice, contributing to a weaker population, labour force, and economic growth. As a result, Canada's population growth is the slowest it has been since 1915/16. Prior to the pandemic, Canada's population was rising at a pace of more than 1% per year, the highest among highly industrialised countries. Immigrants accounted for over 80% of yearly population increase in Canada.
Last year's decrease in the percentage of new economic class immigrants arriving from overseas harmed the labour market. Immigrants made up 80% or more of Canada's new employees every year. Due to a lack of immigrant immigration, Canada now has the largest employment vacancy rate in its history, with roughly 1 million jobs now vacant.
Pursuit of the goal has also resulted in a reduction in IRCC's selection requirements. For example, when it introduced Express Entry in 2015, IRCC said that the new Comprehensive Ranking System (CRS) was a scientific method of choosing individuals who were best positioned to thrive in the labour market.
Prior to the pandemic, a candidate had to have a CRS score of roughly 470 in order to be asked to apply for permanent residency. Last year, however, IRCC reduced the score to as low as 75 in order to include more in-Canada candidates in its 401,000 admissions objectives. In other words, the Canadian government believed that meeting this objective was more essential than using its own evidence-based standards to assess an Express Entry candidate's eligibility to prosper in our economy.
This is not to argue that those with lower CRS scores can't contribute to Canada. On the contrary, immigrants from all socioeconomic origins have made overwhelmingly good contributions throughout history. This comment, however, is intended to highlight a gap in the Canadian government's immigration policy.
It remains to be seen how people who obtained permanent residency through Express Entry with a lower CRS score fare in the labour market. They'll probably do well, but IRCC and Statistics Canada data shows that candidates with higher human capital earn more and have better overall labour market results. If this is correct, IRCC will have foregone the option to choose higher-potential immigration candidates in exchange for shattering Canada's yearly admissions record.
IRCC admits that the concentration on the objective has exacerbated backlogs. The department currently has a 1.8-million-person backlog, up from 1.5 million in July 2021. This is because IRCC prioritised processing applications from within Canada, whereas existing and new applications were given less attention because they would not contribute against the 401,000 admissions objectives. Unfortunately, this is causing a vicious circle to form.
The backlog will continue to stymie the admission of economic class immigrants from overseas, delaying labour force and economic growth even more. Furthermore, the processes of family reunion and refugee resettlement will be slowed.
As previously stated, IRCC and Immigration Minister Sean Fraser issued a statement on January 31 to conduct some damage control by admitting the magnitude of the backlog and explaining the efforts being taken to restore processing times to IRCC's service standards. This is a welcome move, but the government should do more in the meantime to get the immigration system back on track.
It would be advantageous for IRCC to share its plan for addressing backlogs to the public. Applicants have the right to know where they stand and when decisions on their files will be made. Rather than the present practice of leaving applicants in the dark for most of the process, it would be preferable for IRCC to be clear and honest about the real amount of time it takes to complete a certain application stream.
IRCC must also maintain a high level of processing capacity throughout the year. Its processing capacity declined precipitously in the aftermath of the epidemic, which was understandable. However, it was not until June 2021 that it began to process permanent residency applications considerably faster, finally managing to finalise over 500,000 in total last year.
Maintaining this pace, according to IRCC, will allow it to exhaust its entire permanent resident inventory by the end of this year. IRCC should maintain this pace beyond 2022 to ensure that all applicants' files are handled in a timely manner.
For a variety of reasons, IRCC should immediately restart Express Entry invitations to Federal Skilled Worker Program (FSWP) and Canadian Experience Class (CEC) candidates. First and foremost, Express Entry is critical to Canada's economic recovery and the alleviation of present labour shortages. Second, given its current Express Entry inventory, IRCC should be able to reduce processing times for new Express Entry applications by the second half of the year, and thus issuing Invitations to Apply (ITA) now would not put the department under significant additional pressure because they will be in a better position to process such applications on time once they are submitted (applicants have up to 60 days from when they receive an ITA to submit a completed permanent residence application).
Third, the basis for delaying FSWP invites (travel limitations) no longer exists since Canada eliminated travel restrictions on all COPR holders in June 2021. Finally, it is also worth mentioning that IRCC has been processing work permits, study permit, and temporary resident visa applications from persons living overseas for the past year; therefore, the slow speed of FSWP application processing makes no sense.
Fourth, restarting draws would aid in restoring Canada's global competitiveness. Fourth, because of the hiatus in FSWP draws during the last year, worldwide talent has begun to investigate other possibilities for immigration. Fifth, a prolonged halt in draws will cause thousands of CEC applicants to lose their status in Canada, and the failure of IRCC to find a solution will compel such persons to leave the country.
This leads to a third suggestion: IRCC should implement another temporary public policy to make it simpler for people in Canada who want to remain as permanent residents to extend their temporary status. For example, it might provide a one-time work permit extension to all CEC applicants living in Canada who the halt has impacted in Express Entry invites since September 2021.
Last year, IRCC provided a one-time 18-month work permit extension to Post-Graduation Work Permit (PGWP) holders in order to give them additional time to secure permanent residency. Among the benefits of this method is that it would provide Canadian companies with ongoing access to such work permit holders, reducing the labour market risks of tens of thousands of workers being forced to leave Canada due to their work permit status expiration.
The Canadian government cannot change the past, but it can think imaginatively about how to address the harmful repercussions of their pursuit of over 400,000 immigration arrivals in 2021. Coming up with excellent solutions will benefit everyone and is just another reason to applaud IRCC.
With this, we can only hope for the best in this year. With the passage of time, it will become clearer how the Canadian government has changed its methods while trying to reduce or mitigate these repercussions.