By welcoming 401,000 newcomers in 2021, Canada has broken its all-time immigration record. IRCC met the target by converting temporary residents in Canada during the epidemic to Canadian permanent residents. As a result, for the second time since its inception as a country in 1867, Canada has welcomed over 400,000 new permanent immigrants in 2021.

Check Your Express Entry Eligibility
Immigration, Refugees, and Citizenship Canada (IRCC) have recently verified this in a press statement. The administration also reported that the country had surpassed its all-time high for permanent resident landings in a single year. The only other occasion Canada surpassed 400,000 immigrants was in 1913, but the start of World War I prompted a drop in immigration in the years that followed.
Before the epidemic, Canada established a target of 341,000 additional immigrants in 2020. Unfortunately, it only landed 184,000 people last year due to the epidemic. However, it doubles immigration to boost its post-pandemic economic recovery, declaring a target of 401,000 new permanent residents in 2021.
Through a technicality, IRCC reached its Immigration Levels Plan objective for this year. A landing can occur when a temporary resident of Canada's legal status changes to permanent residency or arrives in Canada from a foreign nation and legally earns permanent resident status. Before the epidemic, the vast majority of newcomers were from foreign nations. However, to fulfil its newcomer target this year, IRCC has prioritized moving persons already in the country. The idea has been that those who are already in Canada are less likely to be affected by COVID-related problems that might jeopardize their ability to get permanent status.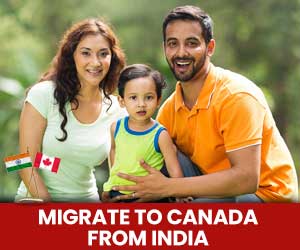 Get a Free Express Entry Assessment
Before the pandemic, around 30% of new economic-class immigrants were already in the nation when they obtained permanent status, whereas approximately 70% moved from overseas. In 2021, this has been reversed, with around 70% entering from inside Canada and about 30% arriving from outside.
IRCC has changed its procedures to convert more temporary residents to permanent residents. Some of the reforms include hosting Express Entry draws for Canadian Experience Class (CEC) applicants and opening six streams in May to provide avenues to permanent residence to up to 90,000 international students and temporary foreign workers in Canada.
Before COVID, Canada received between 25,000 and 35,000 immigrants every month, increasing numbers during the warmer spring and summer months. This year, Canada got off to a sluggish start before ramping up landings in June. However, since June, Canada has routinely landed more than 35,000 new permanent residents each month, and in recent months, landings have approached 45,000 each month. As a result, one of IRCC's primary aims in 2021 is to reach the 401,000-newcomer target. After achieving this target, IRCC will widen its goals upon issuing a new mandate letter.
In a statement issued today, Immigration Minister Sean Fraser noted, "Last year, we set an ambitious aim." We accomplished it today. This is a watershed moment for our country, as we welcome the most newcomers in a century. I want to thank everyone in my department, especially our Operations Sector, for making this possible. Canada is based on immigration, and we will continue to welcome the immigrants that Canada requires to thrive. I can't wait to see what our 401,000 new neighbours contribute to communities around the country."
According to the Immigration Levels Plan 2021-2023, Canada expects to accept 411,000 new immigrants in 2022 and 421,000 in 2023. By February 10, 2022, Fraser will have announced the revised Immigration Levels Plan. Fraser has hinted that the revised plan might have even greater goals for 2022 and 2023.