Canada launched its fourth Express Entry lottery of the year, which invited PNP applicants. On February 16, Canada welcomed 1,082 Express Entry candidates to apply for Canadian immigration. Immigration, Refugees, and Citizenship Canada (IRCC) solely invited Provincial Nominee Program (PNP) candidates in the current invitation round. The cut-off for the Comprehensive Ranking System (CRS) was 710. When a PNP candidate is nominated, an additional 600 points are automatically added to their score, which is why the minimum score was so high.
This is the third time in a row that a PNP draw has smashed a record for the number of invites sent. The previous record was set two weeks earlier, when 1,070 PNP hopefuls were asked to apply. Candidates who have been invited now have 60 days to apply for permanent residency in Canada.
Express Entry levels 2022-2024
According to Canada's Immigration Levels Plan 2022-2024, which was issued on February 14, the country hopes to accept 55,900 immigrants through Express Entry-managed programmes this year. This figure does not include the 83,500 PNP immigrants Canada intends to receive this year, but not all of them will be admitted by Express Entry.
The new Express Entry objectives are less than half of the old multi-year plan planned. According to Canada's 2021-2023 levels plan, the number of Express Entry immigrants in 2021 is expected to be 108,500.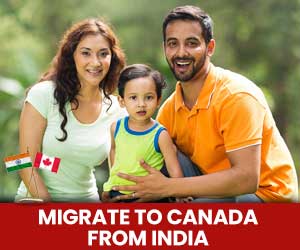 Get a Free Express Entry Assessment
The figures of last 15 draws have been presented below: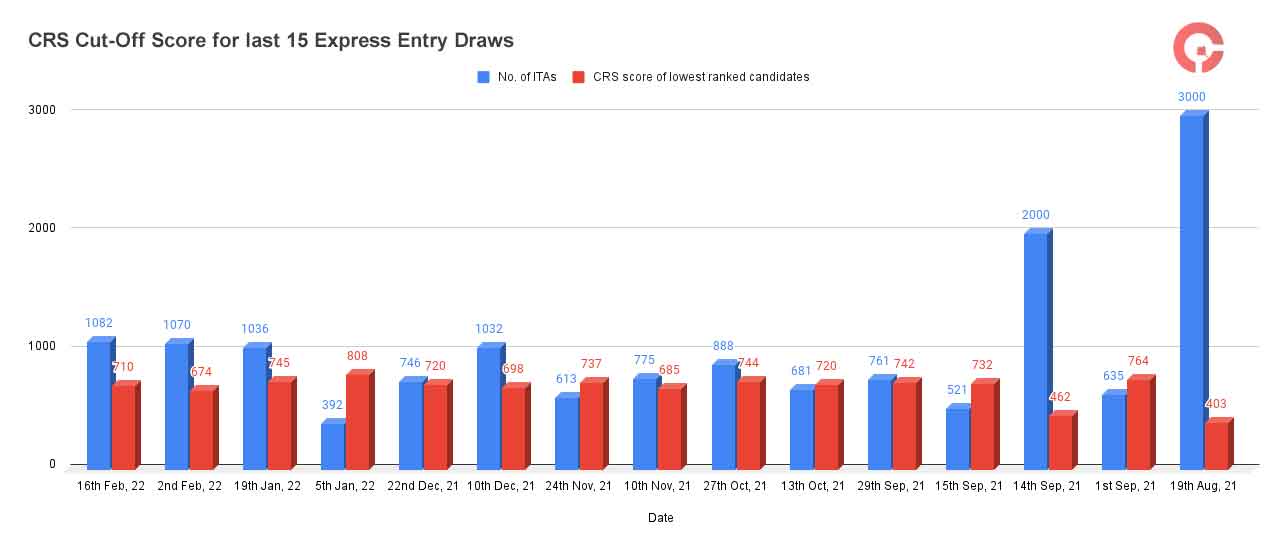 The Express Entry expectations for next year have also been cut to 75,750 from earlier targets. However, targets appear to be returning to more typical levels in 2024, when Canada plans to admit 111,500 people through Express Entry.
The immigration projections for 2023 and beyond may alter in the autumn, as the immigration minister must present the next multi-year immigration levels plan by November 1. In addition, the objectives for 2022-2024 were postponed due to the federal election in September.
Canada decreased objectives in part to allow IRCC to process its backlog of immigration applications. As a result, as of February 1, there were more Express Entry applications than Canada needed to accomplish its objectives for the year. The cut seems to be part of an IRCC attempt to expedite applications for the Temporary Residence to Permanent Residence (TR2PR) programme and meet the target of resettling 40,000 Afghan refugees.
The Canadian Experience Class, the Federal Skilled Worker Program, and the Federal Skilled Trades Program all use Express Entry as their application management system. Therefore, candidates for the PNP who are in the Express Entry pool have already qualified for one of these programmes.
Express Entry ranks candidates' profiles using a point-based mechanism known as the Comprehensive Ranking System (CRS). The top-scoring individuals are issued an Invitation to Apply (ITA) and may then apply for permanent residence.
Following the application, an IRCC official evaluates the application and makes a decision. The officer will seek biometrics and schedule an interview or request other documentation.
If your application is granted, you will get a Confirmation of Permanent Residence (COPR) from IRCC. Approved permanent residents can then complete the landing procedure. If they are not already in Canada, they can take advantage of pre-arrival programmes to assist them with the initial stages toward establishing in Canada.