Provinces throughout Canada are still hand-picking overseas candidates for permanent residency. Go through our monthly overview of the March 2022 Provincial Nominee Program (PNP) draw results and find out the trends and detailed analysis Canada immigration.
Talking about the Provincial Nominee Programs, it allows each Canadian province to create its own immigration rules. Except for Quebec, each Canadian province has its own nomination scheme. Most of them feature programmes aimed at students, businesses, skilled professionals, or semi-skilled workers. Additional targeted elements are generally determined by labour market deficits or other provincial needs. Some provinces, for example, want professional employees who are fluent in French to boost their Francophone population while others may need individuals with proficiency in English to fulfil their regular market demands.
Provincial Nominee Program immigration accounts for a sizable portion of total economic immigration to Canada. A total of 241,850 economic immigrants are planned for 2022, including 83,500 designated for individuals who apply under the Provincial Nominee Program.
Many Provincial Nominee Programs (PNPs) arrange draws in which individuals are invited to apply to be nominated for Canadian permanent residency. Certain PNPs need individuals to submit an Expression of Interest (EOI) profile to be included in these draws. Other programmes immediately invite individuals from the Express Entry pool who have not even submitted for consideration.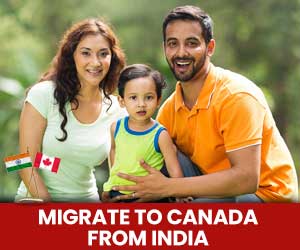 Get a Free Express Entry Assessment
Alberta
The Alberta Advantage Immigration Program (AAIP) staged two different Express Entry stream draws in March 2022, inviting 700 applicants in total. Last month, the lowest-ranking applicant invited had a CRS score of 318.
British Columbia
British Columbia announced modifications to its nomination programme in March 2022 to prioritise healthcare workers and early childhood educators (ECE). The British Columbia Nominee Program (BCPNP) invited 2,841 applicants to submit for nomination in seven consecutive Expressions of Interest (EOI) draws last month.
Early Childhood Educators (NOC 4214), 35 healthcare-related jobs, Health care assistants (NOC 3413), and other priority occupations, including NOCs 3114 and 3213, were targeted in BC PNP draws. The province also staged specific tech draws in addition to a general draw for all other vocations.
Manitoba
In March 2022, the Manitoba Provincial Nomination Program (MPNP) welcomed 300 applicants through four distinct nominee drawings. Individuals who have filed an Expression of Interest (EOI) profile under the Skilled Workers in Manitoba, Skilled Workers Overseas, and International Education streams were invited by the MPNP.
Both of Manitoba's Skilled Worker Overseas programmes attract specific individuals who have been invited as part of a Strategic Recruitment Initiative. An invitation under such a programme adds 500 points to a candidate's Expression of Interest score, giving them an edge in MPNP draws.
Manitoba also staged two special draws last month in response to the situation in Ukraine. These draws did not seek individuals with a minimum necessary score but rather those who satisfied all MPNP qualifying conditions.
Ontario
The Ontario Immigrant Candidate Program (OINP) issued 2,171 nominee invitations in March across five PNP streams:
Employer Job Offer: Foreign Worker stream
Employer Job Offer: In-Demand Skills Stream
Employer Job Offer: International Student Stream
Masters Graduate stream
Skilled Trades stream
Ontario's quota of 9,000 entrants for 2021 has been met. Despite having the most immigrants of any Canadian jurisdiction, Ontario's Labour Minister aims to quadruple the number of nominations issued to 18,000 by 2022. Although Ontario has not yet released its nominee quota for 2022, it has been distributing invitations at a rapid pace since the beginning of the year.
Prince Edward Island
The Prince Edward Island (PEI) PNP held an Expression of Interest (EOI) on March 17, 2022, inviting 141 applicants through the Express Entry & Labour Streams. Another 11 individuals were asked to participate in the Business Work Permit Entrepreneur stream.
Saskatchewan
Last month, the Saskatchewan Immigrant Nominee Program (SINP) welcomed 121 candidates via five consecutive PNP draws.
Three of these draws were held in reaction to the war in Ukraine, with a minimum score of 60-61 being the aim. The other two draws required a minimum score of 87 and applicants from 31 different NOC codes.