In recent years, Canada has become a buzzword. The number of immigrants from all over the globe to Canada has skyrocketed, making it one of the most popular destinations on the planet, and the same is true for those seeking to migrate from the UAE to Canada.
The number has risen to a new high in recent years, as evidenced by numbers given by the Canadian government.
So, let us look at some of the most common choices for immigrants seeking to migrate to Canada from the UAE.
Canadian immigration options for those living in the UAE
Suppose you live in the United Arab Emirates and have your sights set on Canada. In that case, these are some of the steps you may take to get Canada PR, which may eventually lead to citizenship.
There are about 100 economic-class immigration schemes in Canada, some of which are Express Entry, Provincial Nominee Programs (PNPs), and so on.
Keep in mind that even the quickest immigration procedures might take months from when you apply to when you arrive. Although Immigration, Refugees, and Citizenship Canada (IRCC) display projected processing timeframes on its website, actual processing times may vary, mainly since the pandemic has caused a backlog in applications.
The IRCC website also lists the application fees. Expect to pay additional fees for a language test, a medical exam, and other services. Your work experience and your aspirations will determine the ideal program for you.
Here are some of the initiatives available to help you realize your Canadian dream.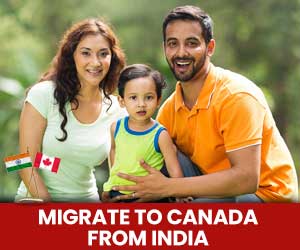 Get a Free Express Entry Assessment
Express Entry
The most common route for Canadian immigration 2022 is Express Entry. It is a web-based application management system for three immigration programs i.e., the CEC class (Canadian Experience Class), the FSWP (Federal Skilled Worker Program), and the FSTP (Federal Skilled Trades Program).
Meet the eligibility requirements for one of these programs and then, you can put your information into the Express Entry pool of applicants and receive a score based on the Comprehensive Ranking System (CRS). Your age, education, linguistic proficiency in English or French, and competent job experience all get you points.
Here, it is important to note down that IRCC uses the National Occupational Classification (NOC) system to establish "skilled" jobs. Skilled occupations come under skill levels 0, A, or B and are thus eligible for CRS points. The highest-scoring individuals are then asked to apply for Canadian permanent residency through recurrent rounds of invitation.
Provincial Nominee Program
(PNPs) are created by Canadian provinces and territories to address regional labour market concerns. Except for Nunavut and Quebec, almost all of Canada's provinces and territories participate in the program.

PNPs are classified into "enhanced" programs that work in tandem with Express Entry and "basic" programs that run independently. Candidates for enhanced programs are drawn from the Express Entry pool. If you earn a provincial nomination through one of these PNPs, your total score will be increased by 600 CRS points. This reward will propel you to the top of the pool, putting you in line to obtain an ITA in the next Express Entry draw.
For those who are not qualified for Express Entry, base PNPs may be a possibility. To immigrate through a base PNP, you must apply to the province and, if eligible, receive a nomination. Then, with your certificate in hand, you can apply to the federal government for permanent residency.
Post-study work permit
Before applying for permanent status, immigrants who worked and studied in Canada had better earning potential than those who came immediately from overseas. Tuition for international students is much higher than tuition for Canadian students. Scholarship options may be available depending on the institution you attend and the study program you are enrolled in.
A study permit is required to study in Canada. You can work up to 20 hours per week and full-time during academic holidays during the school year. In addition, certain programs will qualify you for the Post-Graduation Work Permit (PGWP). This highly sought-after work visa permits you to work anywhere in Canada for any business. It typically lasts the length of the study program; therefore, a one-year study program may qualify you for a one-year PGWP.
If you intend to take advantage of the PGWP, which is only available once in a lifetime, be sure you are enrolled in a program that qualifies you. Such programs must be at least eight months long and offered by a Designated Learning Institution in Canada. Furthermore, to use your experience toward the PGWP, you must have studied full-time during each academic session of the study program. International students may also be disqualified for the PGWP in some situations.
Canadian work permits
Canadian work permits are divided into two categories: Temporary Foreign Worker Program (TFWP) and International Mobility Program (IMP). The primary distinction between the TFWP and the IMP is that the TFWP requires the Canadian business to get a Labour Market Impact Assessment (LMIA). Simply put, the LMIA procedure is a method of demonstrating that hiring a foreign worker will have a neutral or positive impact on the Canadian labour market.
The Global Talent Stream, part of the TFWP, is a work permit program that permits tech employees in specified industries or recruited by participating organizations to obtain an accelerated work visa. In addition, since the employer is exempt from the LMIA's advertising requirement, the application is completed significantly more quickly.
The IMP does not need LMIAs because the program exists to advance Canada's broad economic, social, and cultural policy goals. This program is further subdivided into significant benefits and Charitable and Religious Workers. The Intra-Company Transfer is an example of an IMP program. This program is intended for critical employees in certain roles who desire to transfer from one branch to another in Canada.
Family-class sponsorship
Citizens and permanent residents of Canada can sponsor their spouse, common-law partner, children, or parents and grandparents. In addition, Canadians can sponsor relatives such as a brother, sister, aunt, or uncle in some instances. However, they cannot sponsor relatives who are deemed criminally or medically ineligible.
You must be over the age of 18 and in an ongoing, genuine relationship with a Canadian who can financially support you and any children which means you may have to be sponsored as a husband or common-law partner. Your spouse or common-law partner can sponsor you overseas if they are Canadian citizens. On the other hand, permanent residents must sponsor you from within the nation.
You, as the spouse, can be in or out of Canada at any time during the procedure. You will be treated as an out-of-country candidate if you live outside of Canada. If you apply from within Canada, IRCC will treat you as an inland applicant, and you may be eligible to get a spousal Open Work Permit.
The Parents and Grandparents Program (PGP) provides a road to permanent residency for Canadian parents and grandparents. The program now runs similarly to a lottery system, with a temporary intake window during which IRCC receives interest to sponsor forms. Following that, the immigration agency encourages applicants to apply for permanent residency.
The Super Visa, which permits parents and grandparents to stay in Canada for up to two years at a time, is an alternative to the PGP. Canadians who have biological or adoptive children under the age of 22 can also sponsor them.
We hope that this post has shown you some choices for economic and family class immigration while pointing out the employment and education options.
Still, if you are confused about the choices, you should discuss your concerns with expert immigration consultants.