With its fresh Express Entry draw, Canada has issued 829 Invitations to Apply (ITAs) to candidates planning to apply for a provincial nomination.
The minimum Comprehensive Ranking System (CRS) score for the April 27 draw was 772 points, which was 10 points lower than the previous PNP draw.
The most recent all-program draw, held in December 2020, was avoided by Immigration, Refugees, and Citizenship Canada (IRCC). Instead, it claims to be focusing on clearing the current massive backlog before restarting the issue of ITAs in bigger quantities.
Sean Fraser, Minister of Immigration, recently stated that all-program draws will restart in early July.
In 2022, Canada has granted 7,299 invitations entirely to PNP candidates.
IRCC awarded 114,431 ITAs to Canadian Experience Class (CEC) and PNP applicants in 2021, a record high. It topped the previous year's total of 107,350 invites.
During the coronavirus crisis, IRCC switched to draw for PNP and CEC applicants in order to focus on candidates who were already in Canada on work or study permits.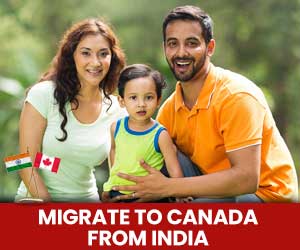 Get a Free Express Entry Assessment
The tie-breaking rule was utilised in the most recent draw, which took place at 4 a.m. EST on March 24, 2022. Only those who submitted their Express Entry profiles before this date and time were invited. This was the 221st batch of Express Entry invitations in total, and the ninth group in 2022.
Express Entry is a skilled worker application management system launched on January 1, 2015 by Canadian immigration authorities (IRCC) to manage applications under Federal Economic programs. The Federal Skilled Worker Program, Federal Skilled Trades Program, Canada Experience Class, and sections of the Provincial Nomination Programs are all part of the Express Entry program.
Stakeholders expect the number of invitations to stay high as Canada works toward its goal of 411,000 new permanent residents by 2022. However, owing to program-specific draws, CRS ratings remain difficult to predict throughout the COVID-19 crisis.
With the coronavirus epidemic in March 2020, Canada resorted to program-specific draws for candidates to the Canadian Experience Class and Provincial Nominee Program. It resulted in a significant rise in the number of individual draws compared to previous years.
Employers are recommended to explore obtaining an LMIA or a nomination through provincial nomination programs (PNPs) to guarantee long-term employee retention.
Given the coronavirus epidemic, predicting the CRS scores required for an ITA in 2022 is difficult. However, during a record CEC draw in 2021, scores as low as 75 were reported.