According to a recent study of over 13,000 prospective immigrants, there is still a lot of interest in moving to Canada. In the survey conducted recently by WES (World Education Services), almost 93% of those polled thought the epidemic would have "no influence" or make them "more interested" in obtaining Canadian permanent residence status. WES, an authorised supplier of Educational Credential Assessments (ECA) for Canadian immigration, performed the survey.
WES polled persons who had submitted an ECA application in 2020 to learn more about how the coronavirus outbreak affected their Canadian immigration aspirations. WES conducted the poll in August 2021 to compare answers and evaluate if the changing pandemic scenario influenced respondents' desires to move to Canada.
According to WES, there has been no drop in respondents' interest in moving to Canada since 2020. Almost 52% of those polled claimed the pandemic would not affect their immigration aspirations. Nearly 93% answered the epidemic would have "no impact" or make them "more interested."
In the 2021 poll, 33% of respondents stated they believed the pandemic would negatively impact employment availability in Canada, down from 45% in 2020. Meanwhile, 35% believe the epidemic will positively influence employment availability, compared to 27% who believe the same in 2020.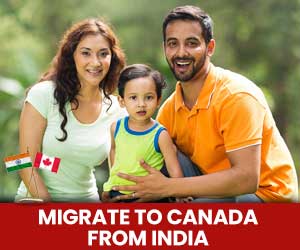 Get a Free Express Entry Assessment
Because of the Canadian government's and health-care system's abilities to handle the pandemic and care for COVID-19 patients, 58% of respondents said they were more interested in emigrating to Canada. Only 21% said the pandemic would cause them to postpone their Canadian immigration intentions, compared to 35% in 2020.
In contrast, 22% of those polled stated they want to go to a nation other than Canada, up from 13% in 2020. In addition, respondents indicated a significant willingness to acquire Canadian permanent residence status even if they faced difficult economic or personal situations. For example, 74% stated that an economic downturn in Canada would have no effect or would boost their interest in obtaining permanent residency. This is an increase from the 69 percent who said the same thing in 2020.
They were also more hopeful about career prospects in Canada during the epidemic than in their native nations. In their home nation, 77% said COVID-19 would have little or a positive impact on jobs in their occupation or sector, compared to 69% in their home country. Only 23% thought it would negatively impact, compared to 28% who thought it would hurt jobs in their occupation or sector in Canada in 2020.
The top three reasons given by persons contemplating postponing their immigration to Canada were travel limitations, a considerable rise in Immigration, Refugees, and Citizenship Canada (IRCC) processing times, and a drop in jobs in their field in Canada.
Before the epidemic, Canada was planning to receive an additional 341,000 immigrants in 2020, most of whom would be low-income. It established travel limitations to minimise the spread of COVID, resulting in just 184,000 additional immigrant arrivals that year.
The majority of travel restrictions have subsequently been relaxed. However, the epidemic has boosted IRCC's backlog to 1.8 million applications, causing processing times to slow. In addition, in 2021, Canada's economy improved, and the country now had the largest employment vacancy rate on record, with approximately 1 million vacant positions.
In 2021, Canada aimed to attract 401,000 new immigrants, which it primarily accomplished by converting those already in the country to permanent residency. By February 14, the Canadian government will release its revised Immigration Levels Plan 2022-2024. The plan will outline the number of new immigrants that Canada hopes to welcome this year, as well as the categories into which they will fall.
The current objective is to welcome 411,000 new immigrants this year, with approximately 60% of them coming from the economic class.